[Video] Capo The Kid – Been Hot feat. Hot Boy Turk @1capothekid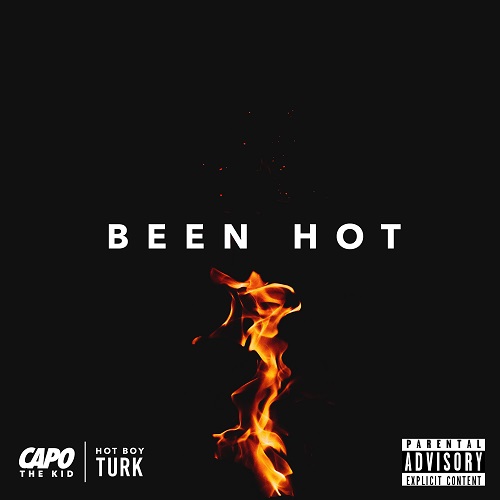 Written By Star Dillard
Songwriter and recording artist, Capo The Kid, is back on his grind with a blazing new single, "Been Hot," which is available now on all digital platforms! The single was produced in collaboration with GFACTOR Ventures and features one of the original Cash Money Records Hot Boys- Turk. Some may remember Capo The Kid from his infectious YouTube freestyles and Dj Drama's remix of his hit single "By Any Means." He's recently been in the studio perfecting his craft as a lyricist and is extremely focused with a shrewd entrepreneurial power team behind him. GFACTOR FILMS music video division (GFACTOR-X) directed and produced a phenomenal visual for "Been Hot." The music video launched today in Las Vegas, right before the Manny Pacquiao VA Adrien Broner world welterweight championship fight at MGM Grand. Stay tuned, big things are on deck for CAPO THE KID!
Watch on YouTube
Purchase / Stream single
Stay Connected
Instagram: https://www.instagram.com/1capothekid/
Twitter: https://twitter.com/1capothekid
For Booking: Scooby Hardee 305-923-5636/ Scooby@gfactorfilms.com
[youtube https://www.youtube.com/watch?v=bLNpwt1LlKs]
(Audio) YUNGXPURPO – Hop In It @Yungxpurpo
Hailing from Riverside, CA, YUNGXPURPO releases a brand new audio release with "Hop In It." Rapping atop a soulful bouncy beat, "Hop In It" is a metaphor for a car joyriding through life, swerving unforeseen moments and indulging in picturesque women. Swapping hot whips for hot bars, YUNGXPURPO is vivid in his storytelling from the song's launch to landing. Check it out for yourself!
(Album) The Lobby Boyz – Lobby Boyz @thelobbyboyz
New York Super Group Jim Jones & Maino links up for epic project that the industry needs. The Harlem Brooklyn duo brings some Energy Back to the streets of New York. This Lobby boy project features Benny The Butcher, Fivio Foreign, Yung Bleu, Fabolous and Many more ! Check this epic Project out!
(Video) Sir Will – "Weight Up" @IAMSIRWILL
Compton bred Phoenix based rapper Sir Will just released the new single and video. "Weight Up" is a dynamic hip hop anthem dedicated to appreciating the beauty, decadence, and finer things in life featuring Sir Will's signature charismatic feel-good flow.
"Weight Up" is all about investing in yourself; putting in the work and celebrating the results. As Sir Will puts it, "The term 'Weight Up' stands for whatever you're doing in life. You can always do it better and go harder."
Antonio Reid Jr. brought together multi-platinum, Grammy nominated West Coast legend Rhythm D (Eazy-E, Snoop Dogg, Bone Thugs-n-Harmony, Mack 10, Paperboy) and Grammy nominated, Billboard award winning icon Bobby Keyz of the Loopholes (Future, Lil Wayne, Rick Ross, Moneybagg Yo) to produce the hard-hitting, razor-sharp sound of "Weight Up".
Sir Will is a defining new voice in the hip hop community who has worked alongside iconic collaborators such as Judge Da Boss, Drumma Boy, and Battlecat. His last single "Moment of Truth" gained more than 180,000 streams on Youtube. He has received high acclaim from EARMILK, Lyrical Lemonade and more. Under his own label Will Do It Entertainment, "Weight Up" is the next step in Sir Will''s dynamic career.