[Video] Capo The Kid – Been Hot feat. Hot Boy Turk @1capothekid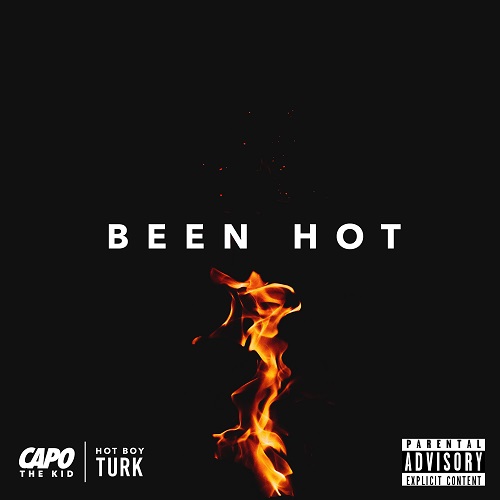 Written By Star Dillard
Songwriter and recording artist, Capo The Kid, is back on his grind with a blazing new single, "Been Hot," which is available now on all digital platforms! The single was produced in collaboration with GFACTOR Ventures and features one of the original Cash Money Records Hot Boys- Turk. Some may remember Capo The Kid from his infectious YouTube freestyles and Dj Drama's remix of his hit single "By Any Means." He's recently been in the studio perfecting his craft as a lyricist and is extremely focused with a shrewd entrepreneurial power team behind him. GFACTOR FILMS music video division (GFACTOR-X) directed and produced a phenomenal visual for "Been Hot." The music video launched today in Las Vegas, right before the Manny Pacquiao VA Adrien Broner world welterweight championship fight at MGM Grand. Stay tuned, big things are on deck for CAPO THE KID!
Watch on YouTube
Purchase / Stream single
Stay Connected
Instagram: https://www.instagram.com/1capothekid/
Twitter: https://twitter.com/1capothekid
For Booking: Scooby Hardee 305-923-5636/ Scooby@gfactorfilms.com
[youtube https://www.youtube.com/watch?v=bLNpwt1LlKs]
(Interview) LENAAH LEE INTERVIEW With OnTheSceneNY @lenaahlee24
New OTSNY interview with Brooklyn Artist Lenaah Lee. Welsh Da God Chops it up with Lenaah about her journey thus far through the Industry. Lenaah Talks about her Relationship with Uncle Murda, Her next Couple Tour dates, SXSW and her recently big show she had at SOBs. Check it out!
MikeDaGreatt & E. Smitty are taking Hip-Hop to the "Blockchain" @MIKEDAGREATT @THEREALESMITTY
For most of us who have little knowledge about "Blockchain" we refer to it as "Crypto" or meme token phenomenon celebrating Shiba Doggie Emojis and promising investors huge returns for taking a chance with their hard earned money "investments". Those of us who are informed are far too familiar with the latest "Crypto" Scams and Ponzi Schemes such as the FTX meltdown, Do Kwan & Lunar and the ongoing SEC x Ripple Lawsuit which has brought a once thriving market to it's knees.
MikeDaGreatt & Super Producer/Record Mogul "E. Smitty" are doing something a little different. The Harlem raised native & the CEO of Sound Alive Records are creating new ways for Artists to add revenue streams by minting "NFT's" that live on the "Blockchain" in addition to traditional forms of music distribution. An "NFT" or Non Fungible Token can have the value of a "T-Shirt" or merchandise or it can be soo much more. Proof of ownership, Exclusive Rights & a new digital way to represent a physical or digital Asset.
MikeDaGreatt recently dropped "Sleep On It" with Production by E. Smitty & along with Distributing through Sound Alive Records, Mike & Smitty have decided to mint NFT's on 2 different Blockchains $XRPL & $BSV. For starters they will be minting limited edition NFT's which will create an immediate new way for the two to get paid for their intellectual property without having to pay the middleman. Blockchains are infinite and any number of NFT's can be minted. The most amazing part is as a blockchain token such as $XRP or $BSV gains value, so does the NFT's that are created on their respective blockchains, giving artists ways to grow and increase the value of their art and contribution to the culture. Checkout "Sleep On It" by MikeDaGreat (Prod. By E. Smitty) now on @youtube and be on the lookout for NFT's coming this month.
(Audio) Tytruth – "Intro"
Holly Springs, Mississippi and Mad House Records artist Tytruth drops off his new single entitled "Intro" out now on all streaming platforms. Tytruth has been pursuing music for just about one year now. "I'm a person who likes to tell my life through music with my emotions, an experience I've been through in life," said Tytruth. Make sure you get intune with Tytruth right now and stream his music on all streaming services.